Brian O made an appearance on the February 24th edition of Sports Works on FOX 2 Detroit. Sports anchor Dan Miller chatted with the rising racing star to get a driver's perspective on the 2013 Daytona 500. Brian O explained how he would have handled the situation five-time NASCAR Champion Jimmie Johnson and Sprint Cup new comer Danica Patrick found themselves in during the closing laps of "The Great American Race."
Brian O also dished out some goods about Tuesday night's brand new episode of Dreams To Champions, which features Brian O's personal friend and mentor who just happens to be the biggest legend in drag racing. We're talking 15-time NHRA Mello Yello Drag Racing Champion and fan favorite John Force!
Check out the video below to hear it for yourself! Tune into the new episode of Dreams To Champions at 9:30 PM Eastern Time on SPEED this Tuesday (February 26th)!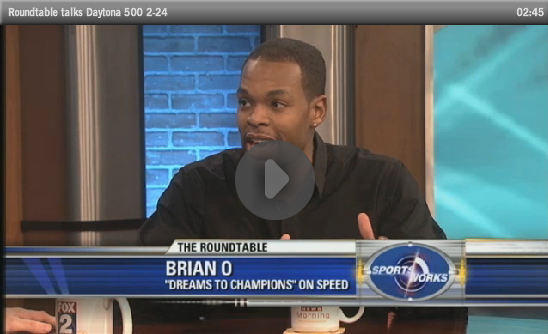 Tags: