Milan, MI – After spending three and a half hours trapped in a truck with the scorching sun piercing through the windshield, all the signs said to give up. But traffic jams, freeway closers and discomfort couldn't keep Brian Olatunji™ and Team Leadfoot Motorsports™ away from the 2nd Skinny Kid Race Car's Heads-Up Race of the season, held on June 2, 2006 at Milan Dragway. The usual trip to Milan Dragway is a short jaunt from Detroit no more than an hour where the team's race shop is located. "We almost turned around and went home but we knew our fans were waiting for us [at Milan] so we pressed on, besides giving up is never an option. We owe it to our fans as well as our sponsors," said Olatunji.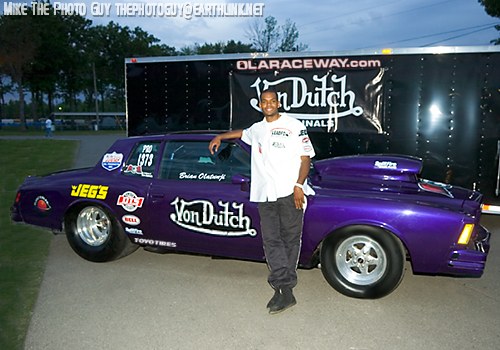 And right he was. Thousands of drag racing fans attended Friday night's festivities and numerous were pleased to see Olatunji's black polished 28ft. trailer roll onto the grounds. After unpacking, all of Leadfoot Motorsports™ team members dispersed into their individual tasks for the night while Olatunji signed autographs for his awaiting fans. "I wanted to make sure I had a hero card and a signature… I think they might be collector's items one day," revealed one fan.
With the traffic pushing the aspiring top fuel funny car racer behind schedule, no one was sure if Olatunji would be able to get into the driver's seat of the team's Von Dutch Olaraceway.com backed Chevy Monte Carlo at all that night. But before the sun fully set, Olatunji made one pass down the strip and now he and crew chief Johnny Broaden are anxious for the next race. "We broke a few pieces but those are easily replaced. We'll be tested and ready for the [IHRA] Division 3 race in a couple of weeks," assured Broaden.
Good fortune seemed to also be with the marketing aspect of Leadfoot Motorsports™. "We weren't sure if any models were going to show up due to the traffic problems Michigan is having right now," event planner Desiree Harrison shared. However two striking models made the journey to Milan and wowed the crowds while attracting them to the Leadfoot Motorsports™ pit area for its 1st merchandise raffle of the season.
By the end of the night, barbeque, laughs and stories had been shared by all, especially those who have supported Olatunji through the years. Before journeying home, Olatunji enjoyed a loving hug from his number one fan through all the years, his mother. "I couldn't be prouder of my son; [racing] has been his dream since he was five years old…and now it's starting to come true!"
Tags: Brian O, Brian Olatunji, Detroit, Heads Up, Leadfoot Media, Michigan, Milan Dragway, Von Dutch