Brian Olatunji and Leadfoot Motorsports Announce a Marketing Parternship with Gehring L.P. for the 2006 NHRA Season

Farmington Hills, MI – Brian Olatunji and Leadfoot Motorsports are proud to announce a marketing partnership with Gehring L.P. for the upcoming 2006 NHRA POWERade and Lucas Oil drag racing season. Brian Olatunji and Leadfoot Motorsports are currently looking for the best situation to make a dynamic impact on the NHRA tour for the upcoming 2006 season. They are currently in negotiations with several prominate teams in hopes that an agreement can be reached to compete for the NHRA Top Alcohol Championship.
"We are both excited and looking forward to this partnership with Gehring L.P.," said Olatunji. "Through my engineering background I know the tremendous opportunity partnering with an innovative company with cutting edge technology can offer. Talk about excited! Gehring is an international company and a new player in the NHRA. We look to help them develop their technology and utilize their expertise to make our program a top contender. They are known as the leaders in honing technology and we look to be leaders in NHRA Top Alcohol Racing. It's a perfect match."
Motorsports Account Manager, Dave Riley from Gehring L.P., says "Partnering with a young and exciting driver who has a technical background can do nothing but enhance our products and offers a unique opportunity to become involved with the great sport that is NHRA drag racing. We believe Brian Olatunji is a future star of the NHRA and we at Gehring want nothing more than to help propel him to that status. We're looking forward to working with Brian."
Brian Olatunji and Leadfoot Motorsports are open to inquires pertaining to Gehring as well as driving offers for the 2006 NHRA season. If you would like to contact them feel free to send your information to brian@olaraceway.com or visit Leadfoot Motorsports website at www.olaraceway.com.
The GEHRING Group is the leading corporation for honing technology worldwide. The GEHRING Group has production plants and sales agencies in Germany, France, England, USA, India, China and Brazil. Customers all over the world profit from the GEHRING Group's international technological lead in honing and finishing machines. For more information visit their website at www.gehring-lp.com. .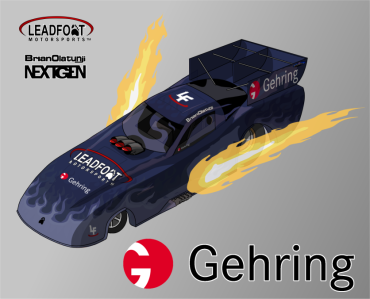 Tags: Brian O, Brian Olatunji, Gehring, Leadfoot Media, NHRA, NHRA Lucas Oil Drag Racing Series, NHRA POWERade Drag Racing Series, Partnership, TAFC, Top Alcohol Funny Car