Video by Ian Lewis Moore. Original Music by Don Digital.
Watch it on YouTube: http://youtu.be/rXvWgExLZbU
In
News
By
Leadfoot Media Public Relations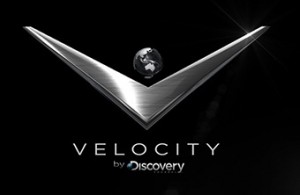 Professional race car driver Brian Olatunji and the Leadfoot Motorsports team are revving up the 2014 racing season with a big announcement! Hit reality series "Dreams To Champions" has joined Discovery Communications' Velocity network, set to debut this Saturday.
"Dreams To Champions" is back by popular demand. The fast paced ten episode reality series follows motorsports young guns on the fast track. Featuring racers Brian O, Juan Carlos Blum and Jonathan Castro the show was a success when initially shown on SPEED last year. After a massive network overhaul Fox Sports Media Group broadened the channel's focus to including a vast array of live sporting events. When SPEED was rebranded as Fox Sports 1 the decision was made to drop motorsports oriented reality programming. Discovery Communications seized the opportunity to incorporate "Dreams To Champions" into its programming portfolio on their high octane, male targeted network Velocity.
"We are elated Velocity chose to pick-up Dreams To Champions and grateful to SPEED for giving us the initial platform to let the world know who we are. This opportunity is like being born again and excitement is an understatement!" stated Brian O.
"Dreams To Champions" is racing to debut on Velocity, Saturday March 15, 2014 at 3 pm eastern / noon pacific. Be sure to catch each episode and follow Brian O, Juan Carlos Blum and Jonathan Castro as they chase their dreams of winning a professional championship.
Check your local listing for further programming details.
Stay tuned for news of a second heart-pounding season and information on how you could appear on "Dreams To Champions" alongside Brian O.
In
News
By
Leadfoot Media Public Relations
Follow John Force as he mentors aspiring nitro funny car driver Brian Olatunji. Brian O a mechanical engineer with over 15 years of racing experience from Detroit, Michigan is starring in the new SPEED reality series "Dreams To Champions." The episode entitled "Perseverance Pays Off," takes viewers on a visit with Brian O to the John Force Racing headquarters in Indianapolis, Indiana.
There Brian O seeks advice from longtime friend John Force, one of drag racing's greatest icons and 15-time world Champion! "Advice from the champ is invaluable and has been an instrumental aspect of my development as a driver," said Brian O. In addition to visiting the John Force Racing shop, Brian O takes in the NHRA U.S. Nationals at Lucas Oil Raceway with Force's Castrol Funny Car team. "There is nothing like nitro and what better place to experience it than the Big Go," said Brian O.
Brian O is a 2005 graduate of Kettering University located in Flint, MI. He earned a bachelor of science in mechanical engineering and has been chasing nitro dreams his entire life. His passion is closely tied to his family's involvement as management of the now default Detroit and Motor City Dragway beginning in 1971. Brian O's grandfather, John Broaden, was the first African-American manager of an NHRA sanctioned facility.
With the nitro seeds planted at a young age, Brian O's quest to join the nitro fraternity provided an opportunity to foster a marketing company, Leadfoot Media, where Brian O is currently CEO. Brian O and his team have cultivated partnerships with global powerhouse bands; the U S Army, Lucas Oil and Pepsi. As CEO of Leadfoot Media, Brian O earned the prestigious Alumni Entrepreneurial Achievement award from his alma mater, Kettering University in 2011. In 2012 Brian O was recognized by Crain's Business Detroit as one of Michigan's top 20 leaders in their 20′s.
Brian O's motto is to live fast and drive hard! As the 2013 racing season commences he is searching for an opportunity to live his nitro dreams with hopes of earning an NHRA nitro license and competing on the NHRA Mello Yello Tour. "I've gone over 230 mph earning my top alcohol funny car license from Hawley and can't wait to feel the sensation going well over 300 mph," said Brian O!
Growing up on the tough streets of the motor city, Brian O knows the importance of education and used it as a cornerstone. With education as a building block he was instrumental in establishing the Leadfoot Foundation, Inc., a 501(c)(3) non-profit organization. The Leadfoot Foundation's mission is to empower youth to chase their dreams and provide school supplies to students in need. During the past three years more than 1,500 students in urban areas have benefited from backpacks and school supplies courtesy of the Leadfoot Foundation.
These activities as well as exciting racing action are highlighted during season one of "Dreams To Champions." "I hope viewers enjoy this journey of a guy who is just like them, on a mission casing my dream! I would love to hear what you think of the show. If you think my last name is challenging here's a softball, I'm easy to reach on all social media platforms @BrianORacing," said an enthusiastic Brian O.
Catch this episode of "Dreams To Champions," with Brian O and John Force on SPEED, Tuesday, February 26 at 9:30 pm est. The episode will repeat throughout the week, check your local listings for times and dates! Follow Brian Olatunji on twitter @BrianORacing and www.BrianORacing.com for updates on "Dreams To Champions."
"Dreams To Champions" airs Tuesdays at 9 pm & 9:30 pm est. on SPEED. Check your local listing for details.
In
News
By
Ian Lewis Moore
Brian O made an appearance on the February 24th edition of Sports Works on FOX 2 Detroit. Sports anchor Dan Miller chatted with the rising racing star to get a driver's perspective on the 2013 Daytona 500. Brian O explained how he would have handled the situation five-time NASCAR Champion Jimmie Johnson and Sprint Cup new comer Danica Patrick found themselves in during the closing laps of "The Great American Race."
Brian O also dished out some goods about Tuesday night's brand new episode of Dreams To Champions, which features Brian O's personal friend and mentor who just happens to be the biggest legend in drag racing. We're talking 15-time NHRA Mello Yello Drag Racing Champion and fan favorite John Force!
Check out the video below to hear it for yourself! Tune into the new episode of Dreams To Champions at 9:30 PM Eastern Time on SPEED this Tuesday (February 26th)!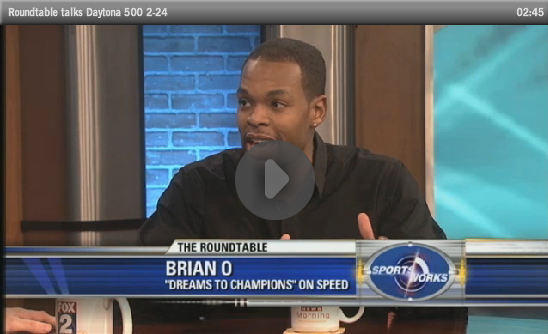 In
News
By
Ian Lewis Moore
Brian Olatunji will be hosting a viewing party for his brand new reality show tonight (February 5, 2013)! Watch the first two episodes with the Dreams to Champions star and grab a free poster and autograph.
The viewing party will be Tuesday night at 8:30 p.m. at the Detroit Seafood Market on 1435 Randolph St.
If you can't make it to the viewing party, be sure to check out the series debut tonight (February 5th) at 9 PM on SPEED!
This morning Brian O was interviewed on Fox Detroit by ace reporter Lee Thomas. Check out the video below!
In
News
By
Ian Lewis Moore
Race fans, SPEED's brand new reality show about up and coming young gun racers will debut today! Follow Brian Olatunji through his toughest season yet, without a major sponsor. After years of success with backing from Pepsi and U.S. Army, Brian O and his team battle against the odds and the clock to compete for championship glory.
Dreams To Champions stars our very own NHRA racer Brian Olatunji, along with NASCAR racer Juan Carlos Blum and Formula Drifter Jhonnattan Castro. Take a look at the two preview clips below to get a taste of the action!
Dreams To Champions airs Tuesdays at 9 PM on SPEED – Tune in and DVR!
In
News
By
Ian Lewis Moore
In
News
By
Leadfoot Media Public Relations
UPDATE: Here are two great articles about the event!
Interview by Patrick Hayes – Kettering University
Kettering Alum's Foundation Donates To Jalen Rose Leadership Academy – CBS Detroit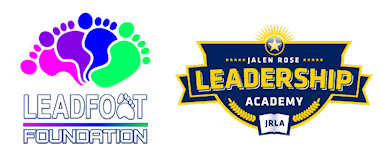 Brian Olatunji's passion for hot cars is equaled by his passion for providing kids with the resources necessary to achieve their God-given potential by receiving a good education.
Olatunji, a 15-year drag racing veteran and the Leadfoot Foundation, Inc. will again demonstrate their support for Detroit youth on Tuesday, Sept. 4, 2012, at the Jalen Rose Leadership Academy when his Leadfoot Foundation distributes educational supplies to each of the school's 240 students.
They will receive backpacks filled with supplies on the first day of classes to help ensure they will be successful throughout the 2012-2013 academic year.
Distribution of supplies will take place from 11:30am – 1:30pm at the academy, located at 15000 Trojan St. in northwest Detroit.
"Our goal is to give back to the very community from which I came," said Olatunji, a native Detroiter who races on the National Hot Rod Association (NHRA) Funny Car circuit.
"After all, it takes a village to raise a child. I am adamant about giving back, especially given I am a proud Detroiter and a product of Detroit Public Schools."
Olatunji is president of the non-profit Leadfoot Foundation, which has donated back-to-school essentials to Detroit school children for the last six years.
Over his racing career, Olatunji has competed in a variety of NHRA categories from Super Gas to Top Alcohol Funny Car. This season he is again at the wheel of the Leadfoot Motorsports primary race car.
A film crew from the upcoming SPEED series Dreams To Champions will be on hand Tuesday at the Jalen Rose Leadership Academy to cover Olatunji and the Leadfoot Foundation's charitable efforts. He is the subject of a new reality series on the network that's designed to reveal what it takes to make it as a professional racecar driver. The show is scheduled to debut in November.
In
News
By
Ian Lewis Moore
UPDATE: Voting has concluded, thank you to everyone that helped out! Tune into LIVE! with Kelly tomorrow morning to see if Brian O made the Top 5!
Voting for LIVE!'s Coast to Coast Co-Host Search ends TODAY at 3:00PM ET! We thank everybody for their support of Brian Olatunji's entry! Head on over to CohostSearch.com to cast your final ballot!
Brian Olatunji has been making the rounds in the media this week. On Sunday night, he appeared on the Detroit ABC affiliate WXYZ Channel 7 Action News. You can watch him improvise his way through the live in studio interview with anchor Glenda Lewis at the bottom of this post, or read WXYZ's article on the Detroit racer which includes the video by clicking here. In addition, the Oakland Press' Nathaniel Gaynor interviewed Brian O about his bid to get into the Top 5 of the LIVE! Co-Host Search. It can be viewed at this link.
On Tuesday, Brian O made a splash on the popular racing show WFO Radio hosted by Joe Castello. Brian and Joe had a lot of fun chatting about a myriad of topics ranging from life, drag racing, reality show filming and co-hosting with Kelly Ripa on LIVE! The full interview is available at WFORadio.com, WFO Radio iPhone App, and as an iTunes Podcast Subscription. The Brian O segment begins 1 hour and 52 minutes into the July 10th episode and it is a great showcase for Brian O's larger than life personality.
The media frenzy hasn't been limited to interviews, as the Mayor of Detroit showed his support by endorsing Brian O's Co-Host Search entry. Mayor Dave Bing spread the word to his 11,700 followers on Twitter. The official website of the National Hot Rod Association has been keeping their fans up to date on Brian O's contest via their NHRA Notebook. Drag Racing Online, the internet's most popular drag racing magazine, informed their readers to vote for Brian O in the fan favorite Agent 1320 news section. John Kernan of RPM2Night.com, a household name in the world of motorsports, also ran the Brian Olatunji Co-Hosting story on the popular website.
On July 15th, this coming Sunday, Detroiters can set their radio dials to HOT 107.5 at 7:30AM and listen to Koffey Brown conduct an interview with Brian O. We will keep you posted on more media coverage in the days to come, and hopefully we can announce Brian O's appearance on the LIVE! Co-Host Search Top 5 competition next week! Stay tuned and don't forget to rock that vote today!
NEWS & BLOG ARCHIVES